Swimming Pools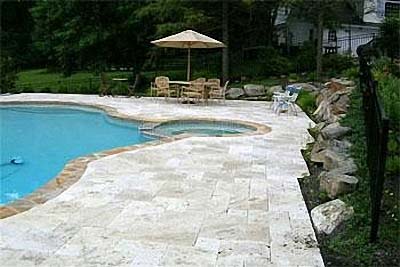 Swimming pools are great addition to any property, whether residential or commercial. They enhance the beauty and function of any outdoor space. Aside from the calming view of water, a swimming pool is also a great place for people to relax and have fun. For families, a pool is a great place to spend time with one another.

Also, this is a more convenient place to have low-impact exercise without having to go to the gym. Taking a short swim or a dip in the water has great health benefits for all types of people, especially those who are pregnant, asthmatic, and the elderly. Swimming pools can also add more areas to entertain guests.

However, you can't experience all these benefits if your pool is built by inexperienced builder. For residents of Newtown Square and other Pennsylvania cities, you can rely on the expertise of Bryn Mawr Landscaping. We can design and build stunning swimming pools. We have a team of experts who can work on the design, installation, and even on the maintenance of your pools. Moreover, we personalize our services to cater to your needs and preferences. With this approach, our team delivers unique designs and functional swimming pool areas.


Pool Restoration
No matter type of pool material you have installed, there will come a time that it will need some type of maintenance or restoration carried out to prolong the life of the pool. We recommend that your regularly have your pool maintained so as to prevent really huge and expensive pool makeovers. Let our team come out and provide your swimming pool with regular restoration and maintenance. We can maintain and repair your pool tiles, pool coping, concrete pools, gunite pools and fiberglass pools. Don't let the problems get too out of hand; we can repair and restore your pools for a reasonable price before we have to complete overhauls!


Pool Decks
Once we have installed a new pool for you, you may also like us to install one of our creative and stylish pool decks. The addition of a pool deck will really finish off any swimming pool area. It allows you to have some tables and chairs and make your pool area a complete entertainment area. Also, by installing some type of hardscape flooring around your pool will help it stay clean. If you just have grass on the surrounds of your pool, you will find that you will have to clean it a lot more often than with a pool deck.


Removal of Old Unwanted Pools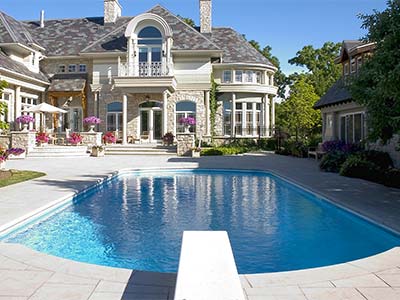 At Bryn Mawr Landscaping we will come out to your property and completely remove your old and unwanted swimming pools for you. We understand that this can be a delicate task. Therefore leave it the professionals. We will ensure that you're surrounding buildings and structures, as well as any neighbors properties will not be damaged in the process of removing your old pool. Let the company with all the knowledge, experience and the right equipment do the job for you!


Stunning Swimming Pool Designs
While we can build geometrical and circular swimming pools, we are always thrilled to design irregular shaped pools for you. These are ideal for people who want to make the most out of their outdoor spaces. So whether you want a heart-shaped pool or a non-symmetrical pool, we can help design and build it without compromising your needs and the appeal it will add to your property. We also build infinity pools, swimming pools with waterfalls or fountains, pools with a Jacuzzi, as well as those with a built-in spa.

When it comes to adding a swimming pool to your residential or commercial property, Bryn Mawr Landscaping is a company you can truly rely on. If you are in Ardmore, Berwyn, Broomall, or anywhere else in Pennsylvania and are interested in finding out more about what we can offer, call us today.


Swimming Pools
Click on the images below to view a larger display.


Photo 1
Endless Pools

Photo 2
Pools

Photo 3
End-Less Swimming Pool