Water Features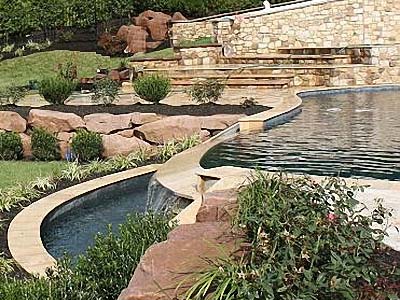 As a full service landscaping company operating in Newtown Square and other areas in the state of Pennsylvania, we know for certain that any landscape without a water feature lacks the oomph needed to make it stand out. Even a simple pondless waterfall, when positioned at an ideal place in any property, can catch people's attention effortlessly. These focal points are what separate a property from the rest.

In our over two decades of doing business in the state, we have worked on countless landscape design and installation projects that allowed us to experiment with and create wonderful water features for our clients. These water features not only added beauty and market value to our clients' properties, but also allowed them to enjoy their properties even more.

And if you need our services, contact us through phone or use our inquiry form to know more about our affordable, yet top notch landscaping services, including the creation of stunning water features.


Our Water Feature Specialties
As mentioned, we are already well-versed when it comes to creating various water features for our Pennsylvania clients. We have developed our expertise throughout the years that we're working on such landscape amenities for our commercial and residential clients.

Here are our water feature specialties:

Fountains. Fountains are great additions to any property. In fact, many of our clients from Rosemont, Valley Forge, Malvern, and Edgemont asked us to design and create fountains for their driveways, hallways, and just about anywhere in their properties.

Bubbling pots. Bubbling pots are cost-effective ways of beautifying the property. In fact, they are among the cheapest water features that any property owner can avail of. With just a small pot or jar, a water pump, water line, and materials like beads, stones, and gravel, you can instantly have a water feature in your property that won't cost you much.

Birdbaths. Just like bubbling pots, birdbaths are pretty cheap to have. Having birdbaths inside your landscape will surely attract colorful birds, thereby turning your property into a veritable aviary.

Waterfalls. Waterfalls are simply amazing amenities that any property owner will surely enjoy having. The sound of running water is proven to provide a relaxing feel and even therapeutic benefits. We can create various sizes and shapes of waterfalls depending on your preferences.

Koi ponds. We can design and build beautiful koi ponds that your family and guests will surely love. We can place colorful koi fishes and some water plants to create an authentic pond look and feel.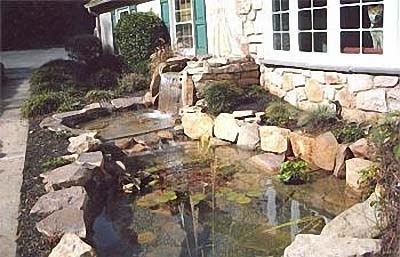 Pools. We can create just about every imaginable pool. We have lots of available design for you to choose from, and we can likewise build one according to your specifications.

Lagoons. Lagoons are perfect for properties with large available spaces. And if your property has a big area just lying idle, then we can build this water feature for you. We can even place a viewing deck where you could fish or just sit by and spend quality time with your family and friends.

So if you wish to distinguish your property from the rest of your area, hire us and we will create stunning water features to make your property stand out. Call Bryn Mawr Landscaping today.